Providing High-Tech Irrigation Systems to the GCC Countries
Cutting-edge irrigation systems optimise water and fertiliser usage and bring about bigger yields and healthier crops at lower costs.
Elite Agro Projects can safely say that we are one of the pioneers in introducing precision high-tech irrigation systems to the GCC countries and this is something we are really proud of.
The tremendous appreciation from our clients here has give us the confidence to venture into the wider world and we now operate in several other countries.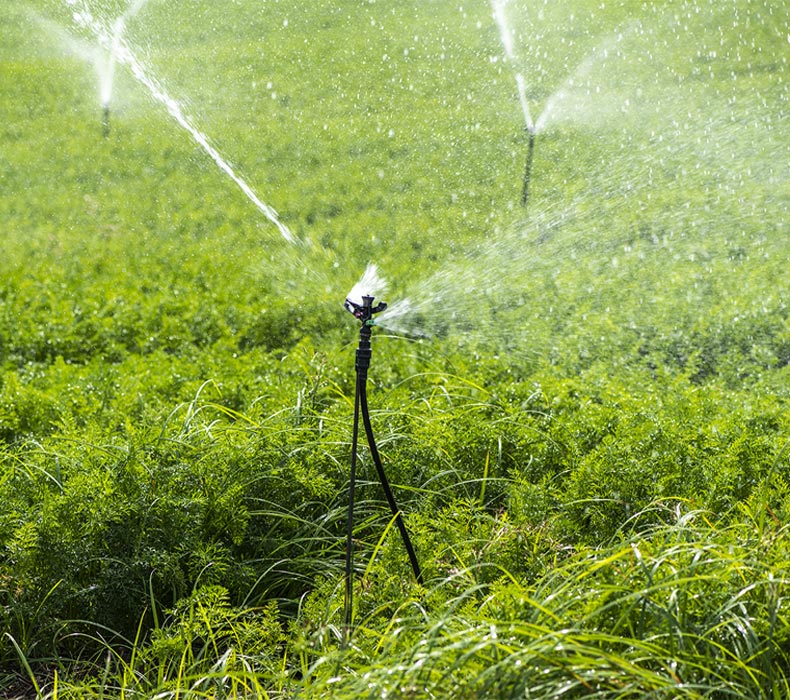 Irrigation Systems for Small and Large Fields
Be it automated irrigation systems that can be scheduled to water plants at set times, hydroponic systems that deliver water and nutrients directly to roots of plants, centre pivot systems that irrigate large fields to a high degree of precision, or other modern surface irrigation systems, Elite Agro Projects caters to all requirements of our clients.
We install all the best options available out there most professionally and have acquired a reputation for successfully completing projects to the complete and utter satisfaction of clients.
Irrigation and fertigation for greenhouses
Water is a precious commodity for growers and delivering the correct amount to plants helps them grow better while reducing cost. Automated irrigation systems also cuts down on labour considerably. There are several effective irrigation systems being used now including drip, sprinklers, fogging, boom etc and we can set any of them up for you.
Fertigation, whereby water and fertilisers are simultaneously applied through irrigation systems, allows for more rational use of both and minimises environment impact. High-tech automated fertigation equipments help place water and nutrients perfectly in absorption area of roots. This improves growth and quality of crops.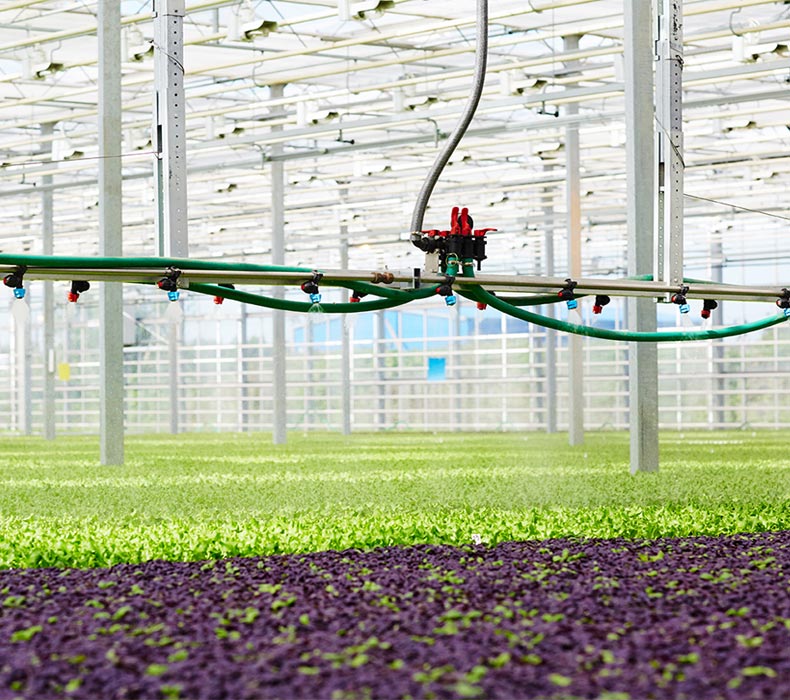 Whatever the task assigned, we take pride in doing it professionally, and finishing it on time and within budgets.
Our constructions are high-quality, trendy and durable.
list of our comprehensive services in irrigation
Precision irrigation systems reduce wastage of precious resources and maximises input utilisation. It also optimises plant growth and crop production. Depending on crops and client's requirements we install the most up-to-date versions of a variety of irrigation systems.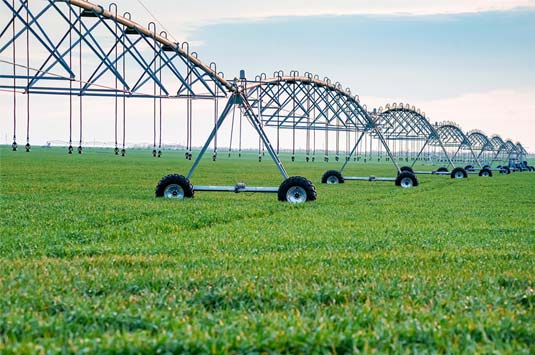 Water and nutrients are delivered through pipes directly to the plants' roots. Drippers emit drops uniformly making it the most efficient delivery system. Drip irrigation has evolved to such an extent and you have so much control that now even individual plants or specific areas in the farm can be watered at specific rates and all this can be done either manually or automatically.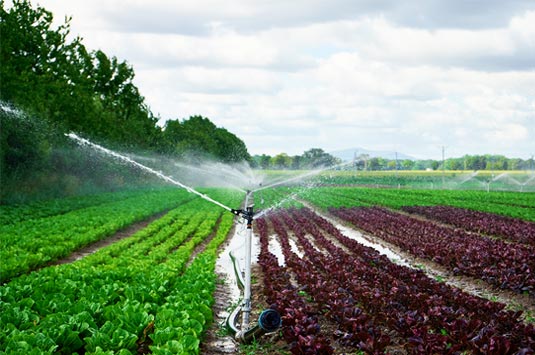 An extensive range of sprinklers in all specifications and discharge capacities are available. They are highly adaptable, provides efficient coverage for small or large farms and makes for easy installation.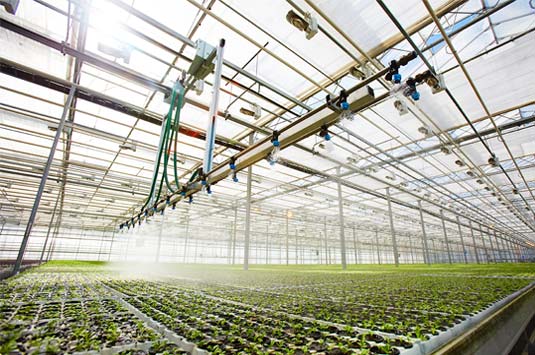 Foggers produce fine mist as pressurised water is released through nebulisers. They are used to maintain humidity and to control temperatures. They are best suited for controlled cultivation like greenhouses or net houses, but also used for orchards to maintain micro climate.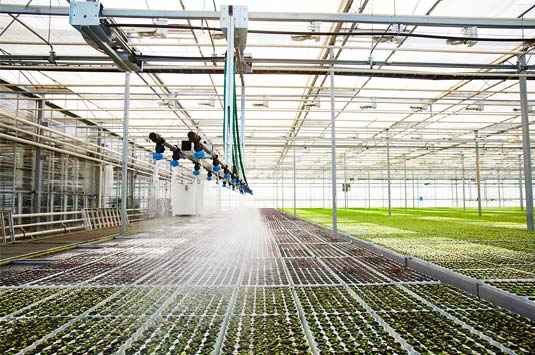 A flexible and versatile irrigation system, boom irrigation involves pipes with nozzles that apply water as it moves over the plants. Highly programmable automated systems are available with speed changes, timers, selection of sections to irrigate etc. We offer custom solutions based on the growers requirements.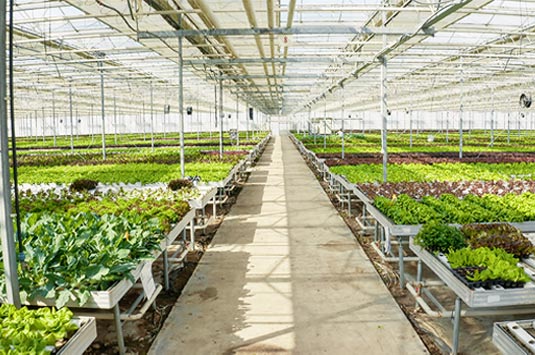 The nutrient film technique (NFT) is a hydroponic system where nutrient rich water recirculates through PVC channels in which leaf crops grow. It saves water and provides a controlled growing environment.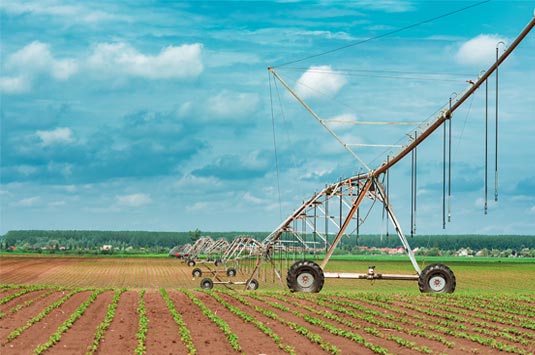 Setting up pivot systems is one of Elite Agro Projects' specialties. They are ideal to irrigate large farms. Our expertise covers centre pivot system, linear pivot system and poly-lined pivots for sewage treatment water.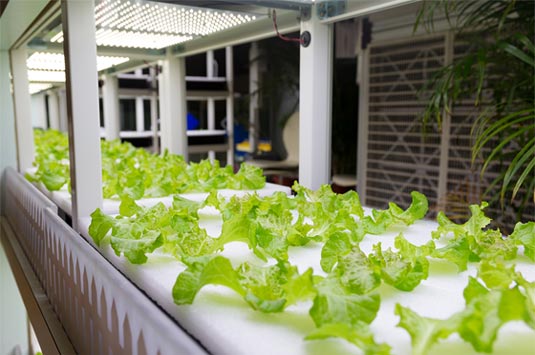 Irrigation system for soilless plantation (Hydroponics)
Hydroponics is the system of growing plants without soil. Only water which contains the right minerals in the right amount is provided for the crop which grows directly on the mineral solution or in a substrate. We install irrigation systems with recirculation and disinfection functions and those without these functions Elite Agro Projects is also proficient in setting up plantation gutters in plastic or steel as the case may be.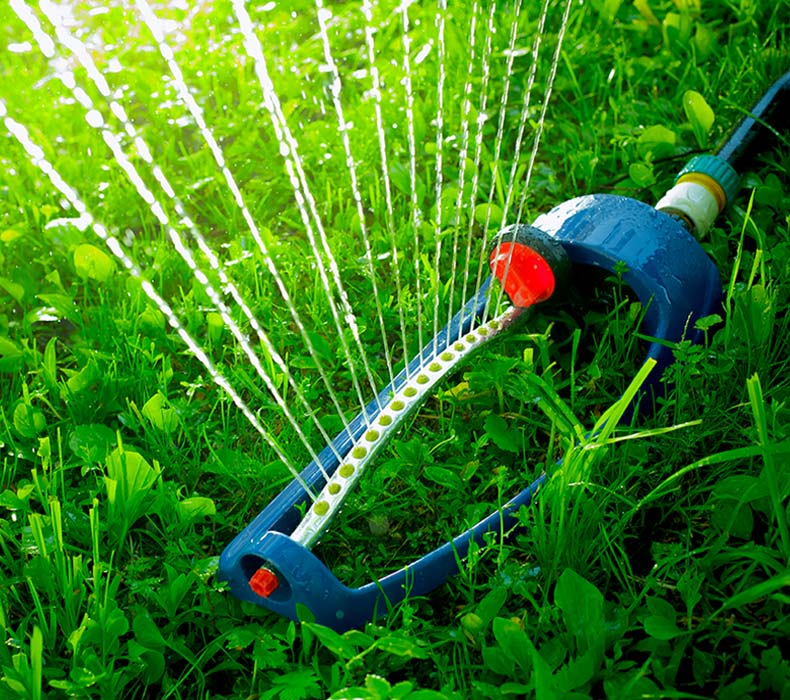 Landscaping & Infrastructure
Laying the groundwork and putting in the right infrastructure is one of the first and basic needs of any functional farm or agriculture venture.Elite Agro Projects caters to all requirements in this regard and our expertise in building construction, erecting structures and installing agro-based infrastructure makes us a one-stop solution for all your needs.
Our proficiency runs into setting up high-tech irrigation systems, greenhouses and electrical substations. We are also routinely contracted to build roads, back houses, post-harvest buildings, pump rooms, labour accommodations, electrical rooms and tanks.
Our construction-related services
Elite Agro Projects has a skilled and experienced workforce that can plan, design and execute construction of the basic infrastructure needed for any well organised farm such as pump rooms, operator rooms, pack houses, farm offices, labour accommodations, villas, store rooms, cold storages, open sheds, roads, boundary walls and parking areas.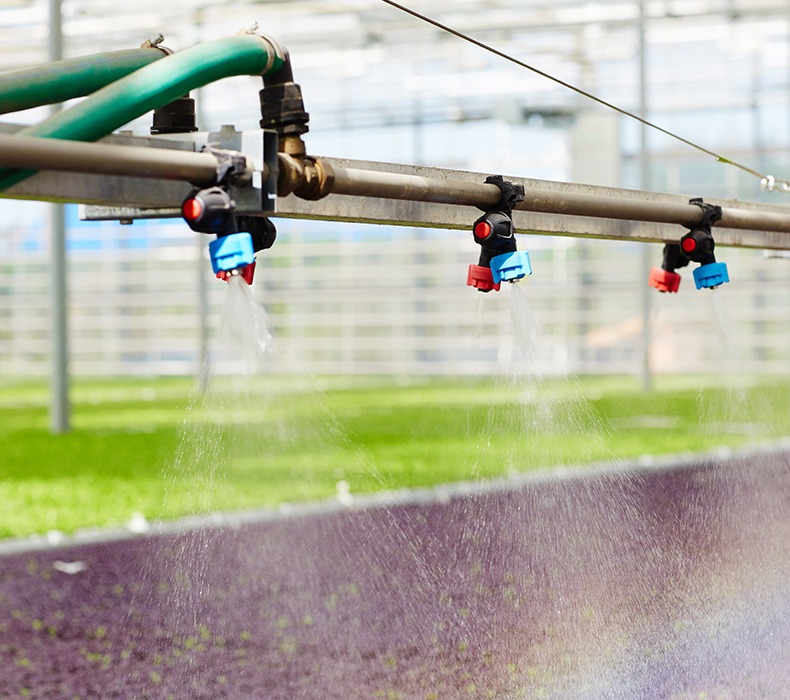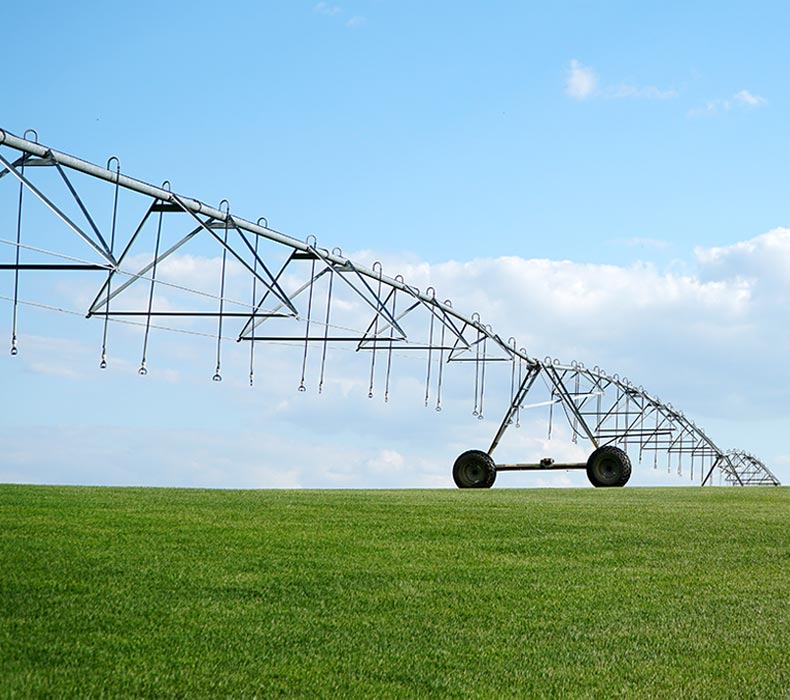 Elite Agro Projects has consummate experience and expertise is setting up centre pivot systems tailored to the size of the farms and the client's needs. These mechanised precision irrigation systems irrigates crops in a circular pattern around a central pivot. This system is ideal for large open field irrigation and provides a high degree of uniformity in applied water.
Popularly known as water wheel irrigation, centre pivot systems facilitate crop irrigation with sprinklers attached to the pipe in circular direction creating crop circles. It is often cited as the most preferred irrigation option in water deficient areas.
Integrated Systems for Sprinklers
The centre pivot system is convenient, saves labour cost and has low operational and maintenance cost. It can also be used for fertigation and for application of herbicide and pesticide on target crops. The installation cost is easily recovered within a short time.
We are experts in installing systems with modular designs that allow for easy customisation where, depending on degree of sophistication, even individual sprinklers can be programmed to be turned on or off or to pulse at preset rates and times. Our skilled team has undertaken several such projects successfully and offer innovate solutions to deal with any challenges on the field.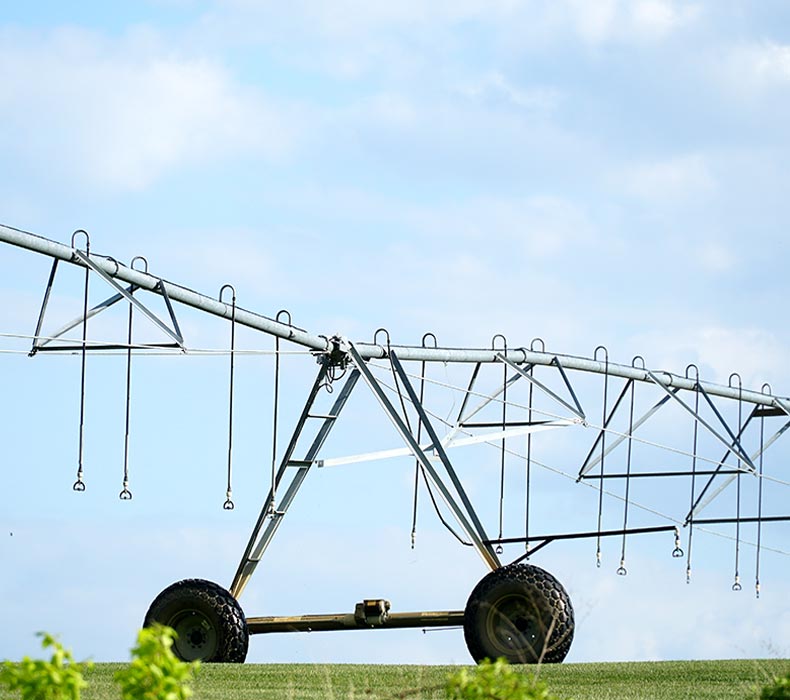 Pivot Irrigation systems we specialise in